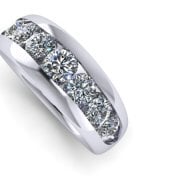 Joined

Dec 28, 2005
Messages

4,097
Date: 2/2/2007 9:15:11 PM
Author: Mara
rod that's sad about your employee but it makes sense...mentally changing can be a huge hurdle. hopefully he won't have to have anything too dire happen before he wakes up for real. your experience IS rare, you know that right? most people don't have the strength to do a full 180 to become healthy...and really stick with it long term... as a life change that they actually ENJOY not suffer through.

just took portia for a 1m walk around the block before dinner...and i think we are taking the light rail to dinner which is like 3 blocks from the restaurant so we'll get a little brisk walk in there too (sometimes it's nice to have to walk after dinner!!)...and ate 1/2 a fiber muffin. i still feel this cold trying to get me...argh. hopefully i can continue to fight it off this wkd.

have a great night everyone and i agree with TG...congrats on a fabulous week of eating well and working out!! time for some fun..hehee.

oh and lucy...my HRM is a polar which is one of the most popular brands out there...my dad has one, my husband has one, i have one...i think mine is an F6 ladies model. they have a few diff models, mine is a pretty basic one, it tracks my workouts, my heart rate, my calories burned, and it can also upload them i think to an excel spreadsheet or something but i never use that. it also has a weekly compilation that it shows me, aka how many calories burned for the week, time i worked out etc. but really i don't use it all the time, i found for the most part that the calories matched with the machines...and so i got tired of wearing it on the machines at the gym (i dont like constricting things on my chest)...so now i only wear it when i walk or do outdoor activities where i don't have any sort of real idea what i burn without it. anyway hope this helps, i think my version was $80-90 which isn't bad at all and i have read polar's are one of the most highly recommended. welcome!
Thanks Mara, and I guess my complete life makeover is not the norm, but I'm oh so glad I did and I just couldn't go back to the unhealthy Rod of years gone by. I'll continue to offer support to my employee, but I'm less convinced it will help him.
And Lucy, my HRM is also a Polar, which as Mara commented is one of the most popular. It works well for heart rate, but the biggest reason I bought mine was to use it to measure how far I was running. Anyway, the Polar system is quite good for either heart rate or distance.