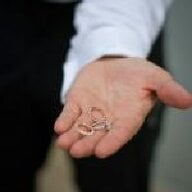 Joined

Dec 8, 2011
Messages

1,304
4ever|1335770768|3183842 said:

StacylikesSparkles said:

4ever|1334743223|3174047 said:

I only had the one BM, this is my second favorite shot of her, my favorite is also my best dress photo.

Gorgeous! Is that a fan or a clutch that she is holding?

It's a clutch (but you're right, it is very fan shaped), we both had a wrist corsage and a clutch instead of a bouquet.
Where did you get it? It is LOVELY!!!