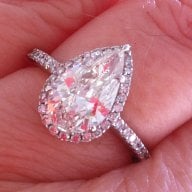 Joined

May 23, 2010
Messages

6,731
Do you like weddings? Or do you dread them, like I do? Have you been to a wedding that left a bad taste in your mouth?

In Tuffyluvr's thread about her brother in laws wedding, Kenny mentioned that he disliked weddings because they are fraught with emotions. I agreed. Then other posters mentioned that they loved weddings. I decided to start a thread about weddings and the dramas the can happen. You're also welcome to post how lovely all the weddings you went to have been.

My ex-BFF and an employee managed to make me unhappy at both their weddings. Both times DH and I were sitting at a front table, but not the head table. Both times the wedding staff removed the tables about 15 minutes after we were done eating. One minute I had a table and chair, the next minute I didn't. Apparently, our tables were on the dance floor and had to be removed. So now DH and I had no place to sit. We're both too polite to take other people's seats so we were stuck standing around for about an hour and then we left. How that happened to us twice, I'll never know. Were we supposed to take other people's chairs? Is there some kind of etiquette that explains where we're supposed to sit?

The worst drama was at my son's wedding, where I got horrible food poisoning. Halfway through the meal, I suddenly felt like I was going to faint. I ran to the bathroom and vomited and had terrible diarrhea. I was so weak afterward, I could barely stand up. DD and DH were very upset to see all this. DS and DIL were off taking pictures and we unaware what was happening until they came back and the hotel staff had managed to find a wheelchair for me. I smiled and acted fine for 2 minutes (which is all the time they spent with me), so they wouldn't worry about me, and go and enjoy their wedding. I bawled in the car, heartbroken to miss my son's wedding. I spent the night in bed, cold and shaking under every available blanket. I now think that I was going into shock or something. DD and DH nursed me with water and plain bread. My son didn't speak to us for a month, we thought he was just involved with his honeymoon, but turns out they thought I was faking it and were angry with me. DIL said I was "an attention ho". And our relationship went downhill from there. I've posted about it before, so I don't want to go on and on about it. But it was a wedding-based drama.

So, yeah, I dread weddings, now. How about you? What wedding dramas have you endured, if any? Or are they usually joyous and festive (you lucky dog)?