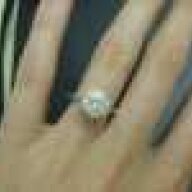 Joined

Apr 20, 2008
Messages

203
Hi Pricescopers!
It''s been a while since I posted here, and I wanted to post an update - some pics of my dress, bridesmaids'' dress and my shoes!
I''ll be wearing this Amsale Elle gown for our ceremony, which will be in the beautiful Catholic church in my hometown in Ireland this July. My lovely new aunt (my dad''s bro married a gorge girl last October) is kindly lending me her veil - it''s an ivory lace-edged cathedral-length veil which I think will go beautifully with my dress.
I''m 5''11" and I guess around a size 6/8, but kind of pear-shaped (oh the joys of being Irish!), so I think this dress will suit my body type.
I just LOVE to dance and party with my friends, so, for the last hour or two of the reception (think from midnight on... Irish weddings tend to be long and raucous!) I''m going to change into a short dress from Priscilla - it''s actually a BMs dress, but I''ve ordered it in ivory. Can''t wait!
I''m also posting a pic of my BMs dress, also from Priscilla. I will have 3 BMs - my sister and two great friends. I''m picking out gold strappy sandals for them.
Finally, here also are my shoes - gorgeous gold/bronze Manolo Sedarabys. I love them! However, as my fiance is around the same height as me, and my Amsale dress is so long, I will probs wear some low heels for the ceremony and meal etc., and then change into my Manolos with the short dress. Can you guess that I bought these shoes before the actual gown?! haha!
Well here are the pics - let me know what you think! I think all 3 dresses go well together - they all have pockets, which I LOVE! Gotta love a dress with pockets!!
CK