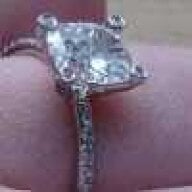 Joined

Oct 11, 2005
Messages

2,152
I just got my wedding ring engraving done and I am sooooooooo in love with it!!!

Because the width is so skinny (~1.3mm?) I had them engrave it on the SIDE of the ring, so I can actually see it when I''m wearing it! When it''s on my finger, though, it looks more like abstract decoration than like "words," but I actually like it that way!

Also, because it''s on the side, they had to hand engrave it, so it''s sooooo nicely done and you can see the lines get thicker and thinner etc in that gorgeous hand-crafted way!
Also, for anyone who remembers my initial concern about how well the wedding band went with the engagement ring - that concern is TOTALLY gone now that I have the engraving! I figured out post-engraving that the thing that bugged me in the beginning was that the flat smooth metal on the side of the wedding ring just didn''t "go" thematically with all the delicate pave - it was a little too modern and stark when compared to the rest of my set. BUT now with the engraving softening up the side of the ring, I think it goes soooo perfectly together!!!! My fiance was gonna kill me last night because I kept asking "well can I just wear it for the rest of dinner?" "Well, can I just wear it until bedtime?" etc. Stupid 6 months more until the wedding!!!

Anyway, time for pics!