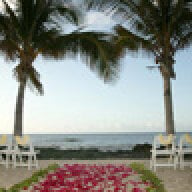 Joined

Nov 30, 2005
Messages

2,216
Or should I say wedding decision update due to the fact that the wedding coordinator is yet again out of the office. Her father''s very sick and I''ve got a bad feeling he''s dying. I''m kinda nervous about this, I really hope this isn''t going to be a problem for our wedding day.

(I feel dreadful thinking that).
Anyway, on to the update!
Dress:
I''ve ordered a two-piece wedding dress to be made for me by a local clothing designer/dressmaker. The top is an ivory silk corset with a sweetheart neckline, halter straps, and curved corset ribs. It laces up the back with ribbons and it''s covered in embroidered vines and little flowers in three different shades of ivory and white. The ivory skirt is an ankle length full skirt with a bottom layer of heavier silk chameuse (sp?) and a slightly longer layer of silk chiffon. (very floaty and it twirls!)
Groom''s clothes:
He''ll be wearing a white jacquard (sp?) Tommy bahamas silk shirt and natural colored silk shorts. He tried to order them online from pretty much the only company we could find online but something went wrong and it mucked up his card without giving him the clothes. He emailed them about it and they never responded.

So no clothes for him yet.
Does anyone have any suggestions for places to buy Tommy Bahamas online?
Rings:
We''ve ordered a 4mm flat 14k rose gold ring with a titanium stripe in the middle made by Jerry Spalding. It''s going to be customized by making the profile .2mm lower. We''ve ordered a custom ring in palladium for me that will be a replica of a platinum ring with bright polished beveled sides and milgrain with a hand-engraved floral motif in the center.
Accesories:
I''ve ordered a headband made of silver colored wire, porcelain flowers and seed pearls. My hair will be down, hopefully in smooth shiny curls/waves. (I have no idea how to make that happen. I''ve got great hair but I can''t even blowdry it. I don''t think I need to wear a necklace in addition to the lei but I have silvery grey pearls. I haven''t decided on earrings yet. Fi gave me little silver dolphin earrings which are my favorite and only silver colored earrings. I may borrow diamond earrings from my mother or sister.
Flowers:
We''ve finally settled on leis which has led to a wedding color scheme of bright yellow and white. I''ll be wearing a flat white ginger lei, he''ll be wearing an open-ended leafy green Maile lei twined with yellow ginger. Our families will all be wearing leis made from a strand of white ginger and a strand of yellow ginger twined together.
Mine: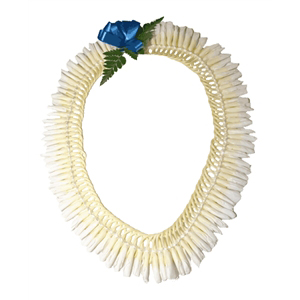 I don''t know what I''ll do for a bouquet now that I have these colors.
Any suggestions would be appreciated!
Food and Drink:
Due to Kona Village being an all-inclusive dinner is included other than the set up for a private decorated table on the beach. So food will probably be whatever the chefs are making that night, but we''re going to specify the drinks since those are extra anyway. We''ll be having beer from the Kona Brewing company (very yummy you should try it) and a Nigori-style sake. (My mother''s been making ''it''s tacky to get drunk on your wedding night'' comments. oy!)
Our cake will be a vanilla cake with buttercream frosting and a tart lemon custard filling. It''ll be decorated with yellow ginger flowers.

This wasn''t one of the options she gave us... but it''s also non-negotiable. I WANT THAT CAKE! *cough*
Announcements:
we haven''t ordered them yet, but we''ve agreed on a simple floral japanese theme, I''ve found one in, of course, yellow and white!

Music and photography:
Theoretically these are the Coordinators problem. All I know is that we''ll have a guitarist playing hawaiian wedding songs, and that our pictures will be after the ceremony at sunset on the beach.

Ceremony:
uh... not much has happened on this front. We''re thinking of ideas like a sea water blessing of the rings and traditional vows. My mother has requested that we not have a ''funky'' ceremony.

I told her I couldn''t make any promises!

But I need to talk to the coordinator to actually get the contact info for the officiant.
We need haircuts. Mine is simple, but he''s never had a haircut he likes. He''s got shoulder length hair that gets curlier and fluffier the shorter it gets. I envision him with long layered and shaped hair like some male model. How to get this to happen, I''m not sure.

Um... What am I forgetting?
Oh yeah, my mother thinks I''m so calm, but I just vent to you guys!

I''m soo freaked out by the fact that I keep getting ''out of the office for family emergency emails'' from my Coordinator. *Deap Breath*