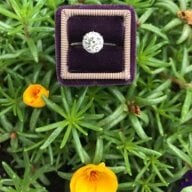 Joined

May 25, 2016
Messages

308
I've dug around through some old threads, etsy, ebay, online retailers, but I am having trouble narrowing things down.

Tell me (or link me!) to what YOU would buy today, using the following guidelines:

-must compliment a 1.81 OEC L with a platinum Jovyn from CvB
-can be old or new
-engraved or not
-preferably thinner (nothing chunky)
-open to no diamonds, some diamonds, or thin eternity band
-budget of 2k max, far less if it doesn't have stones

I am worried that some whiter stones will make my OEC look dingy. Though, if they are small, probably not.