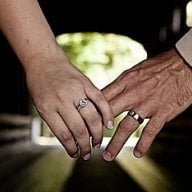 Joined

Jun 19, 2008
Messages

373
I tried posting this in Rocky Talky, but only got 2 responses and I''m still not finding anything.

My engagement ring is a cushion halo on a 1.8mm pave band. I will be getting the matching 1.8mm diamond wedding band. However, I really would also like to have just a plain white gold band to wear when I''m boating, hiking, gardening, cleaning, traveling, etc so I always have on a wedding band. Maybe one day I will wear the plain band, engagement ring, and diamond band as a set- we''ll see. So a few questions:
1. Does this make sense to do? Having two wedding bands?
2. If so, does anyone know where I can find a 1.8mm white gold band?! The thinnest I can find is 2mm.
3. If I can''t find a 1.8mm, would a 2mm be a noticible difference to my engagement ring band?

Thanks so much for your help!