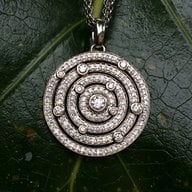 Joined

Dec 9, 2008
Messages

2,260
Since my partner and I started talking about getting engaged, and I promply started thinking about the associated sparkly things, I have changed my mind a million times as to what I wanted. I started at Ashers then princess 3 stones, then ovels and cushion cuts and to round cathederal solitares and then rubover settings. We've broused every jewerly shop we've walked past, talked to the jewelers about what would suit me, but I still couldn't pin point what I acually wanted.
Adding to this, our budget wasn't huge. We both decided early on that all the 3 or 2 months sallary rules are rediculos for a young couple like us yet to buy their first home. So, my choices were limited.
We decided to drive to an outlet mall last monday to have a look around for end of season clothing bargins and after almost a lap of the mall we found the outlet of a very reputable jewlery shop. I had no idea they had an outlet shop.
We went in for a brouse and started trying things on for fun, as I was still trying to get an idea of what suited me, not seriously looking to purchase anything yet.
And then he pulled out the most beautiful ring I have seen in any shop, so much more special and unique then anything else we'd seen. I fell in love *swoon*. It was a three stone ring in white gold, the center stone a .73 ct SI1 M coloured peachy pink pear shape with two . 18 brilliant oval SI1 H side stones. So NOT what I thought I had wanted, but so very me and sooooo pink! and SOOOOOOOO sparkley! and way, way belove valuation price ( as in, below half price, so JUST over our budget). We left to talk it over and resist the urge to impulse buy, but the thought of some one else snapping it up made me want to cry so an hour lafter we were back.
They knocked abit more off the price as my partner cheakly requested (he would batter with God himself if given the chance) , and it is being re shanked in rose gold to bring out the pinky colour of the center daimond for no charge, and the rose gold looks amazing with my skin tone *sigh*. I'm waiting to get it back from the jewlers and will be perminantly anxious till it's back.
As the ring purchase was abit premature, I have a while to wait before I can wear it (atleast 6 months), but it wil be well worth the wait.
I'm SOOOOOO excited, I LOVE it!

I promise pics as soon as it's acutally mine.