Joined

Jun 9, 2009
Messages

46
I CANNOT believe it's already been a couple months, but we did it!!!
Life since the wedding has been a whirlwind of grad school, new apt, & new puppy (I'll try to have pics of her up eventually too!), but my hubby and I are extremely happy, and we are THRILLED with the first round of wedding photos that our photographer put up on his blog!
I am so SO proud of all the hard work, creativity, and love that my husband and I, as well as our friends, family and AMAZING vendors put into creating our totally fun, (and wildy unconventional) wedding, and I really wanted to share it with as MANY people as possible- to show any brides or grooms out that who are considering something offbeat- that it CAN be done!
I guess I'll give a little info before I add pics/ links: My husband and I had this crazy dream about 3 years ago of incorporating our favorite sports teams into our wedding, though we initially thought it wouldn't be possible until AFTER I finished grad school & we lived in Chicago (once again). Due to certain events, we decided we would attempt to have the wedding earlier, and so started calling planners in our unique locations (and some vendors) last summer. Then, it was a CRAZY time of planning and obsessing over wedding websites (Stylemepretty, Greenweddingshoes, Ruffled, Snippet&ink, etc.), capped off by a 3 month trip for me to Chicago to pull it all together, create all the DIY elements, etc. Like I said, I am over the moon with the results, and I cannot WAIT to get the full album back from our immensely talented photographer, Jeremy Lawson.
I'm going to put up the link to our wedding, which is on Jeremy's blog, where he has captioned most of the photos to explain how the big day went, but I realized that unfortunately, he didn't have any shots of our invites (which took SO much hard work!)- So I'll start with some of the photos I took of those
*We made some fun Save The Dates, though I don't know if I have full pics of those on hand- I'll try to find those to include later...
100 of our closest family members/ friends came home one day to find this in their mailbox: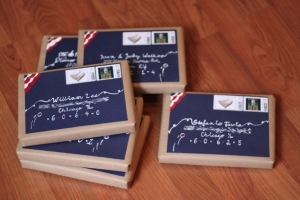 My husband and I DIYed the packages (about 50 total for 100 guests)- from the calligraphy (I gave it my best shot!), to the decorative baseball banner accents in the corners, and ordered baseball-related stamps from Zazzle.
When our guests opened the package, there was a Cracker Jack box inside (again, we made the front label using vellum that we printed on via our laser printer, then cut)- and inside of that, was our invitation package, which was inside a prize pouch that we made (again with vellum)- and cut - to look exactly like the prize pouches you find in a real Cracker Jack Box. I didn't include it in the picture, but we actually put a layer of Cracker Jack popcorn inside of the box as well! (Most guests LOVED this- except for a couple instances where shipping took a few days and things weren't as fresh, but hey- we tried our best!).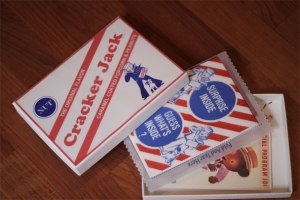 When the guests opened the surprise prize pouch, our invites were inside, along with a little spinner prize, shown on the bottom right (I created them with the help of Martha Stewart
. The actual invites were printed by Papersource (if you're ever in Naperville, IL- stop in- they're wonderful!), and we ordered all the plain white box mailers from them to create the Cracker Jack Boxws, but other than that- DIY baby!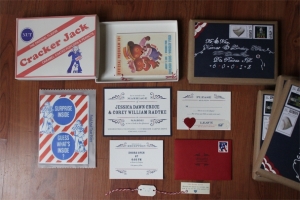 Included with the invitations and spinner prize was a information booklet for all our guests-designed to look like a Cubs baseball guide with basic Q &A sections about our ceremony, reception locations, times, hotels, etc.
Took about a week to create, but it helped our guests IMMENSELY for the fun day that was to be our wedding.......
SO.....
With this being said, a good handful of pics from our wedding are here!!!:
http://www.jeremylawsonphotography.com/blog.cfm?postID=564
As you can see, there's a TON of other DIY elements (I went a little nuts, but I'm SO happy with how things turned out!). The candy buffet was a LOT of work, but I had SO much fun in the process: collecting vintage tins and pieces of furniture, and cutting ALL THAT RIBBON!
The photo wall was a project that my Dad and I created together- He thought it was a strange idea when I first approached him about it, but he sure was beaming with pride that night when everyone was using it!
The ONLY sort of regret that we have is: Yes, the Cubs game did get rained out (I guess you can say we're used to SOME kind of let down- we ARE Cubs fans after all
- but SO many people told us they had an amazing time even without the game (There aren't too many photos of our musicians (Justin Enco Band), but they are good friends and popular performers in the West Palm Beach/ Ft. Lauderdale area that we flew in and ROCKED the rooftop!) In fact, the owners of that rooftop loved them so much, that they're considering possibly scheduling them for future gigs for next year (I guess they're willing to fly them up from FL to Chicago!)
So I guess I've thrown out sufficient recommendations and background info for now- hope you enjoy the pics, and please feel free to pass this all on (if you know anyone who is considering an offbeat wedding, and needs ideas!) If you have any questions, I'll try to do my best to answer, though I do have mid-terms starting Monday! Thanks Guys!!!