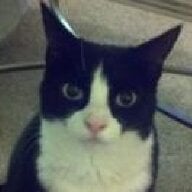 Joined

Aug 8, 2005
Messages

40,225
Hi MZ, I know it does. And I''m being patient. But my three have a virus (like a cold that keeps coming back). They''ve all been repeatedly tested for more serious things and they are all clear. This is apparently pretty common in rescues. And when it acts up in my two boys the iris of one of their eyes swells and can eventually lead to blindness or cataracts-- especially with Frodo who stresses about everything, and Duncan''s eye has been a brilliant red after intros. With Hally it causes her to get so stuffed up she attacks her nose with her claws and tries to unstuff herself manually. And it''s stress triggered. And all of them are inflamed right now. ALL OF THEM. Between the intro''s to Lucy, the freaking fire alarms (we''ve now had three), and everything, I have to watch out for their health. Duncan and Frodo are already getting eye drops 6 times a day. And we''ve had to do steam vapor therapy to Hally twice to unstuff her (she''s on a decongestant).

The one on one intro''s are better. John and I can control Hally better. Duncan ignores her. And Frodo... well he''s baffled cause even after all the excessive hissing from Lucy he still wants to be friends.

Duncans iris was red-orange after their intro again last night though. Everything was fine until Lucy realized how close she''d gotten to him (he was just sitting in one spot for a while so I guess she forgot about him) and then she went WACKO and it was like ''attack of the wild'' and hissed and started growling at him and was bristled out to twice her size. And he went and hid, and when he came out... hello again red eye-ball. He''s got another opthomologist appointment on Friday. But our vet is concerned about our cats and she was the one who brought up the trade idea initially. If we can bring in another cat, who is ''tribe friendly'' and have Lucy taken into a home where she a) can be the only catand b) has a chance of finding her forever home quickly. We are open to it. Yes, it feels like we are giving up on her. And it hurts. But my responsibility is to my resident cats first.

We''re very firm with them, and are definitely alphas. But my Hally... she''s not right in the head. She really isn''t. Mine all listen to me with just a word, and Lucy does too ("No Lucy" stops her)... and they all beg forgiveness when they do anything wrong. Hally''s a little different about it. She listens but plots to get arround us, though she isn''t often successful, she does occassionally manage to out smart us.