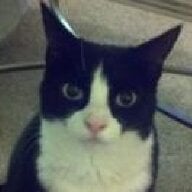 Joined

Aug 8, 2005
Messages

40,225
So just a week after Miss Victoria (now AmberGretchen's mom's kitty) left us in October a new female stray came into our backyard and we set about taking care of her. When we moved to our new larger apartment we still hadn't found a permanent home for her, but had come close a couple of times. So we gave her the second bedroom and some office furniture, a lot of cat toys and set about finding her owners.
It's now Mid-March. She's a black cat with a kinked tail (where it had been broken and healed wrong) about a 1 and a 1/2 years old and a 'unique' disposition.
He name is Lucy... Lulu, Lu Bear, Lucy Lu... and she answers to none of them.

And after so many months, we couldn't stand the enforced separation anymore and decided this weekend to try to integrate.
As expected Hally is Homocidal-- Catocidal? Visciously so. And this is gonna take A WHILE. We had two 10-15 minute meet and greets, very carefully monitored and controlled this weekend. At one point John caught Hally in the middle of a giant leap (looked like a reciever catching a superbowl touch down pass) and tackled her to the ground (gently, on her, hard on his back and shoulders). But we are going to try to integrate her into the household and hope that she bears up to dealing with Hally better than Noel did. There just doesn't seem to be another option at this point. On the plus side, she trusts us very much and that seems to be helping this situation, because she seems to understand that we won't let Hally kill her.
Here's a pic, from when we had her at the vet (she's very calm about the vet. Verry odd, that.)
She's a pretty good girl, and if she and Hally work things out... she'll make a great addition to our zoo (I mean, household).
Could use some good vibes/dust for the integration problem. Maybe some prayers that Hally has a complete personality shift and suddently decides she LIKES Lucy (and not as her favorite new toy to torment, either)?