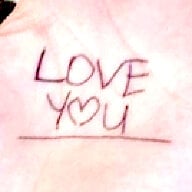 Joined

Sep 23, 2011
Messages

5,303
I'm having trouble figuring out a wedding band to go with my engagement ring. Everything I've ever dreamt I wanted doesn't look "right" next to it. Bands don't sit flush since the baguettes and the solitaire extend out from the setting, so I'm having a notched spacer made.
I've spoken to a few people who've said this style is the hardest to "match" with. It's driving me crazy. I want something thin, so it doesn't take the attention away from the engagement ring. I tried on a band with baguettes, and it drove me nuts that the baguettes in the band were straight, but my e-ring setting's are tapered. I tried on a band, and it was taller than my setting. I tried on a band, and it was thicker than my setting's band. NOTHING is scratching my itch, but I don't know what will!
Help? Have you seen sets like this that "worked"?
E-ring for reference: