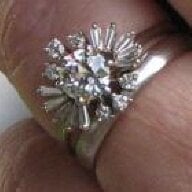 Joined

Jan 7, 2007
Messages

2,514
Hi,
First of all, let me tell you that I''m a french person. When I read the information on this website, sometime I understand, sometime when the language is technical, I don''t understand...

I do not know if I have the permission to speak about this subject but I take a chance. I do not have much money and I would like to have a beautiful diamond. When I go on Ebay, I see diamonds at very low prices. What do I risk? Which councils can you give me to avoid I lost my money?
I always dream that a day I would have also beautiful jewels as those I see in the forum "Show me the ring". I find these women lucky to have of so beautiful things to carry.
I am afraid of to do me to have, I have so few money and I would not want to throw it in the air.
Regards