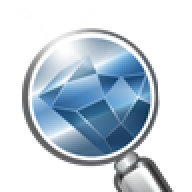 Joined

Dec 31, 1999
Messages

8,266
We used to talk how Internet affect diamond business. However, there is a bigger threat to B&M jewelry stores. Giants like Wal-Mart and Costco also sell a lot of diamond jewelry now.
I just made some searches on Yahoo! and stumbled upon this Walmart banner. Now you can design your own ring on Walmart site too!



of course to check prices.

. It looks like they target certain budgets, in this case 1 carat for $3K (in simple 14K white gold ring).

1 carat, however, can be from 0.95 to 1.10. It is uncertified I color and I2 clarity.

Come on! You could do better than that in the web. I found quite a few EGL certified 1 ct H SI2 for that money listed in the 'net.

One thing I like about Wal-mart is their return policy and best price guarantee. Check this out (from Wal-Mart website):


Best Price Guarantee
**Wal-Mart and Keepsake are committed to offering Certified Quality Jewelry at Every Day Low Prices.

Wal-Mart is so confident of the Keepsake Quality that we are offering a Best Price Guarantee. If you find the same item for less elsewhere, we will match the price plus refund 20 percent of the price difference.

In order to receive the matched price plus 20 percent of the price difference, your claim must be accompanied by the original Wal-Mart receipt and a certification or appraisal from a certified appraiser specifying that the other item is the same or better in terms of cut, clarity and color. (This policy does not apply to items found at pawn shops or warehouse clubs and is limited to the local business area within a 50-mile radius of the Wal-Mart location.)
Does it mean if I buy a diamond ring from Walmart website I should compare prices in the stores within 50-mile radius as well?

[/u][/u]