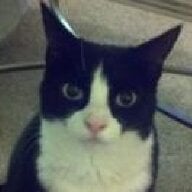 Joined

Aug 8, 2005
Messages

40,225
As I posted in CF's thread, I don't often post on LIW. I'm generally just not patient enough so I avoid the forum.
But over the couple of months ... I've been wandering.
And I have a question. Why does it seem to be such a taboo to tell another woman to leave a man? Why does it seem that women are always advising others to 'be patient' and to 'put up' with the crap that comes their way? It doesn't matter if the woman is being unreasonable and demanding, the guy is being a a jerk, or if the two just aren't right for each other through no one's fault. It always seems to be "be patient"....

Sometimes that's the correct advise. Granted. And it IS hard to understand what is going on from a couple of sentences in a post. But, what personally drives me batty is that the advice doesn't seem to differ too much, even though the facts (once they are posted) of each poster's situations are vastly different.
Why do we continually goad each other into holding on to hope that might be long gone, into subrogating our desires completely in favor of another's needs, and into continuing unhealthy patterns of behavior?
I'm just geniunely baffled. I admittedly have probably advised, IRL, more women (and men) to leave unhealthy relationships than most because I don't ascribe to the 'wait it out and see' philosophy. If there is a reason for waiting, great, a geniune reason like... "I cheated on him, but we are trying to see if we can move past that before we get married." Or, " he treats me like a queen and loves me but he doesn't have a job and is a dreamer but is making sincere life changes (like going back to school) and I'm waiting to see if he's willing to stick to it before I get married, get a mortgage, and possibly have kids with the guy." But when the writing is on the wall... WHY tell the person to 'wait'?
ETA: (I realize that most did not, once the facts were known, thanks to Freke, continue to give this advice in CF's post, it's just a general observation, nott a specific one. And I could admittedly be cranky from lack of sleep).