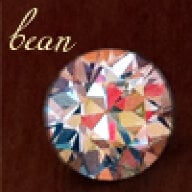 Joined

Mar 23, 2008
Messages

5,384
I've been waiting about 4ish weeks and got these pictures a little bit ago.
They are SUPER FAST. It's my first time working with them... fantastic.
Here is a picture! The top is a white oec diamond ~ .35ct (I was going to have them weigh it but forgot

) and the bottom is a .91 light yellow oec diamond.
I wasn't sure if I should post this here or SMTB... I specifically did a yellow bezel to make the stone look more yellow- does that count for colored stones?
Anyway- I am super excited. I also got my Gary Braun amethyst today- the one that went up last weekend. It's GORGEOUS. But of course the pictures make it look dull and blue. Photographing colorless or near colorless diamonds is so much easier
I think I might have them make a ring for my amethyst in the future!