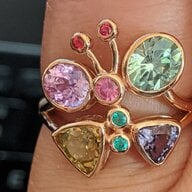 Joined

May 13, 2018
Messages

4,864
...because I have a bunch of OMG moments that I want to share and things I want to discuss with other gem lovers!
Maybe my inner reaction upon seeing colored gemstones is just more dramatic than most people's. But when I see
I go

!!! I think emeralds and paraibas have the best blue-greens. This is Columbian emerald, oil only, and the sheen of that color is incredibly beautiful, even if such clean emeralds only becomes affordable in small melee sizes.
But then when I see demantoid garnets like these...
the brilliance and brightness of top Russian demantoid garnet also make me go like

!!!
I have a demantoid and paraiba 5-stone eternity style ring, and the demantoids glow more under the sun than the paraiba!
I guess top demantoid is really rare and is mined in a country where you have to pay the workers more than in Latin America, but oh my goodness the price! The 1.5mm melee demantoids cost more than 1.5mm paraibas from Brazil!
I think this thread will become a repository for things I adore but cannot afford. I need to start being a real adult now and budget less for bling.