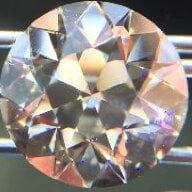 Joined

Aug 25, 2016
Messages

130
Hi lovely PS'ers!!
My boyfriend and I have an appointment to visit
GOG
this upcoming Friday since we'll be only 3 hours away to visit family. Currently this is the plan:
- We want to commission a custom cut AVR, so...
- Look at a range of colors and sizes of in-house AVR's to get a feel for preference
- Compare the color(s) I like in plat and rose gold semi-mounts to see how the head color affects the stone's color
- Look at some AVC's just for FUN!! (I still def want an AVC, but have decided AVR for e-ring)
- Discuss the custom cutting process in more detail, hopefully with Jon.
After that I'm drawing a blank. Since it's a 3 hour drive each way, I don't want this visit to be over in just 30 minutes!
So, do any of the more experienced diamond connoisseurs here have suggestions on further research I should do while I'm there? Questions I should be asking? Comparisons I should be making? And does anyone have any special requests? Obviously, I don't want to be a nuisance if
GOG
is slammed - it WILL be Black Friday afterall!- but happy to take photos/vids if anyone has a particularly pressing request.
Thanks in advance for any help! I'm sooooooo excited to finally be starting this process with my boyfriend!