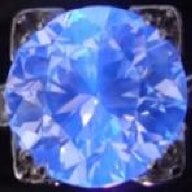 Joined

Apr 26, 2007
Messages

8,087
So, sometimes something someone says on this board sticks in my head. This time, it was Glitterata. Allow me to repost the comment and the piece that inspired it so you can see what I mean. (Um. I hope this isn''t presumptuous - G., if it is, say the word and I''ll ask a mod to delete the topic!) She was writing about one of her gorgeous vintage finds, and she said:


...the style of the setting is so very 1920s. It''s funny how big this setting and its sister setting (the one I have my Infinity in, the one I''m wearing with this new ring in the pictures on this thread) make the diamonds look. I love the brash, roaring 20s atmosphere of them.


I hope the original owner wore cloche hats in the day and peacock-feather headbands and mink stoles and short, fringed dresses in the evening. I hope she bobbed her hair and smoked cigarettes with a holder and danced the Charleston at speakeasies.


I wish the ring could tell me all about it.

Since the ring(s) can''t, I think it would be fun it we did. Thread rules: post an image of your vintage piece, and write out the elements and attitudes that it exemplifies for you, and that you hope will rub off on you and dust you with their virtues and their vices.