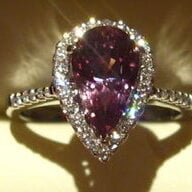 Joined

Jun 29, 2008
Messages

10,227
Thank you to Coati and Hudson Hawk who guided me through my last hours of panic last night trying to decide which watch to go for!
These were the choices:-
1. 14k white gold with small pave diamonds. Great face (love the dial and the simplicity of it). Tons of information from the seller.
2. Platinum with diamonds (48 and bigger than pave). Comes with appraisal that grades diamonds as VS1 and I in colour. Beautiful design. Would have preferred the dial from above but this one isn't shabby!
#2 made my heart sing. #1 was considerably cheaper and so was very tempting.
#1 finished 2 hours earlier than #2 on Ebay and I let it go without bidding.

I then had to go to bed because the other auction finished at 3.30am! I placed a bid with AuctionSniper and went to bed. Strangely I've woken up really early, rushed down to the laptop and ............. I've won #2! Yeah!
So, this is what my OH is getting me for my birthday in April!



(#1 on the left - #2 now MY watch on the right)