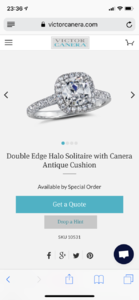 hello! Been a longtime lurker on this forum and have learned so much over the past few months! Haven't posted anything yet as I'm not an expert so this is my first post.
Anyway thanks to this board I have narrowed it down to a halo engagement ring from Victor Canera. I was quite surprised and happy to see that his prices aren't much more than prices on WF, BG and even a bunch of local jewellers I visited in the Chicago diamond district.
Still undecided on if I want the double knife halo or just single but at the moment I'm leaning towards this one with a the cathedral so my wedding band can lay flat with a 1.8-2.1ct round
My bf will be responsible for picking out the actual diamond but with the help of my notes and guidance (I love researching and have learned so much on this forum, I couldn't not share it)
A few questions:
- I was planning on having him purchase from HPD, WF or BG to get a great cut. I care more about size than color but still want it to shine
hoping for at least a 1.8 ct as my ring size is a 9. Will we be able to get something for under $16k (diamond only)
- i read on the forum that someone bought a diamond from VC. Is this something worth doing or will we overpay vs WF ACA etc.
- if he ends up ordering the diamond from WF or HPD, could he ship it directly to VC? Has anyone done this before?
Thanks in advance!