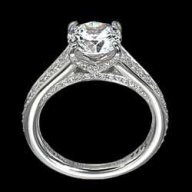 Joined

Dec 16, 2008
Messages

53
My FF and I don''t talk much about engagement, but we do talk about the wedding!

We, like EVERYONE, are worried about the economy and have kinda agreed that spending $20000 on a wedding in these times isn''t for us. So we talked about having something small in Las Vegas in about a year or a year and a half! It would cost much less and the money we save can help us with a nicer house.

Nothing is set in stone, but the other option would be waiting 3 years b/c i''m in grad school and other factors. There is an issue that my parents have never flown at ALL! But my Ma said they would come if that''s what I wanted.

Have any of you known someone who had a wedding in vegas? We don''t want to do drive through or elvis or anything! We still want something elegant and personal.