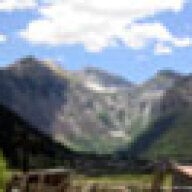 Joined

Apr 23, 2003
Messages

69
Thanks to everyone on the board I have finally decided on my engagement ring…
But here is my (maybe last!) question:
Does anyone know if the tiffany eternity band (that is designed to accompany their lucida e-ring) will look just as nice sitting next to the vatche setting? I know there will be that little gap—not worried about that, but what about the thickness, or I guess you could describe it as "height" of the tiffany band as compared to the vatche ring? I guess I am just trying to figure out if one is significantly chunkier than the other.
Thanks!