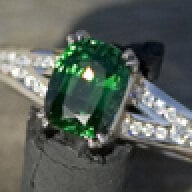 Joined

Aug 3, 2006
Messages

9,613
Thought I''d start a new topic on useful books following on from things in Harriet''s tsav thread and hopefully some of the experts and GG''s will chip in with advice and recommendations.

I have:

Robert Webster - GEMS: Their Sources, Descriptions and Identification, 5th Edition
Got this as an amazing £20 ebay bargain and have found it really useful and interesting.

Eddy Vleeschdrager - HARDNESS 10: Diamond
Bought this in Antwerp when I was landed buying diamonds for the company I worked for with no more knowledge than having done a very basic micro-geology course 10 years earlier and owning a couple of gem books. 600 pages with almost no pics, but I found it very useful when I wanted to learn about diamonds fast and pricescope didn''t yet exist. Would be interested to hear opinions on this book.

Richard Wise - SECRETS OF THE GEM TRADE
Superb and great pictures.

Edwin M Streeter - PRECIOUS STONES AND GEMS: Their History and Distinguishing Characteristics, 5th Edition 1892
This book is fascinating. Streeter was a well know London jeweller and handled many world famous gemstones that are still known today. He gives accounts of these and also of ruby mining in burma in the 1800''s. His pages on the latest modern trends in diamond cutting are rather amusing, as we would consider them far from modern! Early lithographic plates in full colour are the cherry on the cake. Another chance find on ebay.

plus a random range of Renee Newman''s guide and various jewellery design books.

The next book I need is:

Richard W. Hughes - RUBY AND SAPPHIRE (waiting for the new edition)

So what books do others recommend - or don''t recommend as the case may be?