I'd like to concur with all of the great reviews that led me to Martin Sheffield of USA Certed Diamonds.
My own experience was awesome. I purchased a diamond from Martin last year and could not be happier. Martin is a true professional and helped me get the perfect diamond for a great price. Like many have pointed out the website is dated and may lead to some initial concern. But once I called Martin up I felt very comfortable and everything was handled by phone and email from that point.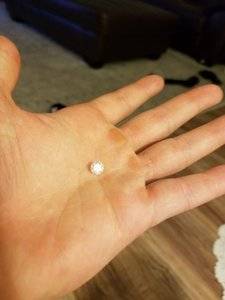 Martin is very honest and is a straight-shooter. I knew exactly which diamond I wanted from the website and communicated that to Martin. Martin commented that the diamond I was looking at was a great choice and at a great value. He did not try to push me to look at other diamonds, add a setting, etc. I really appreciated this. He sent over pictures of the diamond promptly and I agreed to the purchase. There was some trouble with my bank during the wire transfer process which was frustrating for me as I had a lot going on at the time. Martin actually called my bank and worked with them to have the wire transfer go through. That level of service took me totally by surprise. A day or two later the diamond arrived at my local FedEx. I had the diamond tested and verified with the GIA cert. at my local jeweler and it was exactly as expected. From there I had the diamond set locally - which was perfect as I was able to use a setting I had seen in person and really liked. My fiance loved the ring. I too was very happy knowing I got a great deal! I had been searching for a diamond for months and was frustrated that the online retailers appeared to have the same prices (even the same exact diamonds) across multiple websites. I always like to find a good deal and for months I just could not find one that made me happy. If I had not found Martin's website through PriceScope, I would have had to pay significantly more to buy the same quality diamond at a jeweler or online retail store. I highly recommend Martin to anyone that is looking for a diamond.
- Kyle