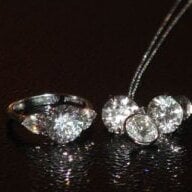 Joined

Nov 20, 2006
Messages

1,567
hi everyone!! i usually don't post in the show me the bling, but i couldn't resist...
first...thank you
brian gavin
and lesley...it was a pleasure again.
i upgraded my 1.50 J pendant to a 2.00 J. i am super excited to see it and i'm hoping that the .50 ct jump will be more than noticeable.
and for those who "know" me from F&H threads...i recently gave birth to a baby girl after having 2 boys. so DH decided we should get her some diamond earrings for later on. and with diamond prices always on the rise, i said let's get it now. haha!!
so at the same time i did my upgrade, we purchased earrings for her.
both are 1.03 I SI1.
here are the pics that they sent me. i will be picking these up tomorrow.