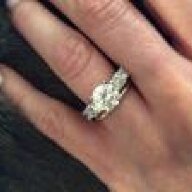 Joined

Dec 28, 2015
Messages

24
Some of you've followed my attempts to upgrade my 3-stone e-ring to a 5-stone by incorporating my existing 3 stones (1 ctw) as side stones. Although it was my husband's idea to upgrade my ring as a Christmas present, we both agreed we wanted to incorporate the existing stones if possible, since he sold his prized possession--a Les Paul guitar--to buy my original ring, & we wanted the new ring to represent how far we've come in 17 years together. We had this done by our local jeweler, & it's been a real learning process for me! My hubby & are are both attorneys who have almost 50 years combined in the practice of law, but knew nothing about diamonds!!After purchasing 3 different center stones, I think I finally found one that fits the proportions of the surrounding stones. I have been on the fence about whether the most recent center stone we chose is nice enough, but I've decided to keep it for a bit before I decide. I wanted a trellis design originally, but our local jeweler could not do one that I liked, so I went with straight prongs, which had to be reworked because the end stones rubbed & cut into my pinky & middle fingers! Today was the first day since I got the newest stone to take pics in the sun, and I must say, I'm having second thoughts about needing to upgrade the center stone. I still think I will have a custom trellis setting done at some point, but for now, I'm going to enjoy wearing this ring, so I thought I'd post it on this forum.
Here are the details:
Center stone GIA XXX 2.03 H SI2. Surrounded by (2) .43s and (2) .25s, ring size 4.5.
The snowy remnants of Jonas gave a great backdrop to get some outside shots, which I'll also share! Thanks for taking a look!!