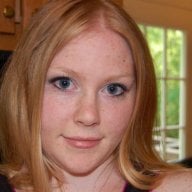 Joined

Feb 10, 2006
Messages

1,751
Hello all--
I just wanted to pop in and say hi..I haven''t been posting as much as I thought I was going to over the last few months but....everyone knows how work can be...
Some changes....
Over the last 6 or so months from my last relationship, I took some time for myself and I have made some changes in my life....first and foremost...thanks to everyone who gave their love and support through my ordeal with ''haz-matt''
It was a long and painful road and I realized that he is not the person that ANYONE should marry....much less try and be a father.
I have decided to attend school and head back for my masters degree in Business from UW Madison... it was something I have wanted to do for some time but I lacked the support from dumb (you know what)...
SO I am doing that for me...
As for my status as an LIW.....
Over the course of this time alone I have realized that things have a way of finding you when you least expect it. With that said....I have found an amazing man who I could have never in a million years expected to find anyone else better. He compeletes my thoughts, my sentences, and my heart in ways I never thought could be. His name is Frankie...(I know..very high school...but sooo cute!!) He is actually older than I am..by 12 years... But I don''t care. I have found my ''mr.right''.....after a long and painful road I have finally come to understand the TRUE meaning of what it means to love and to BE loved....which is no easy feat all on its own....there are things in life that you never truly expect to have happen to you and certainly not when its not on your ''plan''....but not all things go according to plan....
Thanks for everyone''s help and support and for truly understanding what it means to have the one person in your life who understands and has a clear definition of what your goals and dreams are....
So theres the long-awaited update....
How is everyone else....
Allycat...how are things with you and your BF?? Did things get better or have you still been working on it....
Mandarine...any progress....we want details!!!!
OK well thats all for now....I do lurk....ALOT...so leave me something and I will reply...