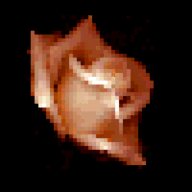 Joined

Oct 29, 2006
Messages

476
No, I'm not engaged, but the other day I casually asked my guy if he knew how many people were in his family, like including parents, siblings, grandparents, aunts, uncles and cousins....
So he started to figure it out, we were both counting his family members on our fingers till I lost track and then we were just talking about it and what not, well I got up and went online to the knot, because I was just all sorts of excited of this development and started to look at cakes and things, and he yells into the living room "I hope you're in there typing up a guest list".... so I turned like 5 shades of red and said how did you know I was looking at that stuff?!? He just smiles at me and I said well I can make one... they've got this set up thing where you enter in names and what not and it'll tell you how many and how many invitations you need, etc. So he says ok... so he sat there listing off his families names (I'm horrible with names and we only see most of them on holidays) while I typed them in! I moved my laptop to where he was laying and we were going over it together, got most of our family listed (I might be missing a cousin or two on my dads side) and added in some friends, then I opened up the budget tool just to see what it was and what not and we were talking and he said something along the lines of how if all he had to do was give me a ring and figure out the date and time that was fine by him. So my little mind twisted it into... sure, get the guest list ready, pick out possible reception and ceremony locations, dress styles etc... lol Plus it gives me the impression that it'll be sooner than later, at least in a year or two, because I was putting peoples babies on there and kept telling me to take them off because no ones going to bring a baby that age to a wedding! They aren't gonna be babies if he waits more than a year! (at least not in my mind) Not to mention that prices and all that jazz aren't really good for very long when trying to make up budget possibilities.
I'm just so excited that we seem to be getting closer to getting engaged, he's been alot more open to talking about things lately.... a few of his close friends have gotten engaged recently, so when he talks to them he asks how the wedding planning is going and one of them told him the worst part was his FI finding her dress

After getting off the phone we were talking and he asked me how much I would budget for a dress.. I of course launched into wedding discussion mode and told him it depended on the time of the year, type of wedding, etc etc...
Also, I finally updated my resume and turned in an application for somewhere I have a really good chance at getting a job thats the same as what I do (which I love to do, I'm just a secretary but I'm good at it!) that pays more, and today I got a call for an interview!
Then theres my class that I'm taking this semester which I was worried about for no reason because I've been doing so well this time around with it.
So things are just great all around...
My guy has been becoming more and more open to wedding discussions, I'm finally out looking for a better job (Mine isn't bad, it's just some things that have been going on around the office that I just can't stand anymore!!!), and I'm doing well again in school. I'm finally feeling the confidence that I've been missing lately.
Everything just really seems to be moving forward for us and I'm soooooooo excited!! And to be honest, a little nervous about it all.... taking more classes at school, switching jobs, getting engaged? it's all a little daunting, especially when it all hits at once. of course, it could still be a while before he pops the question, but still..
Anyways, I just wanted to share all my exciting news! I can't really talk about the wedding stuff with any of my friends, I don't like talking about school all that much, and I don't want to spread it around too much about the job thing cause if I don't get it I'll have made a big deal out of nothing..... but to me it is a big deal because it's super hard for me to even go out there and try!!
So sorry about the long post, but thanks for reading my ramble.
hehe!!!!