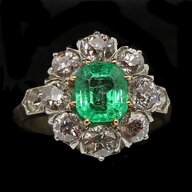 Joined

Jun 1, 2020
Messages

162
This thread is amazing. I had always wanted to see close-ups of certain rings, and this thread delivers.
I can't help thinking, however - and it is not the first time I have had this thought - that these are also people who preach to us little people about the importance of social causes and banning inhumane conditions and how we're all doomed by global warming. Yet they happily wear diamonds and other gemstones, zoom around on private planes and yachts, and could practically end all the world's ills if they pooled their resources. They are the definition of hypocritical. It reminds me of the 1985 "We Are the World" record - really, those singers could have ponied up amongst themselves and donated as much money as the record sales made. Somehow the actual acts borne of social conscience get pinned to us little people.
Moving on, I love the emerald and Asscher cuts - basically the step cuts - the best. I will likely never be able to afford something like Mariah Carey's ring, so I bought a CZ ring set in sterling silver that is very similar. I should post it in the "Costume Jewelry" thread. It's hilarious, totally honkingly gaudy, and fun.