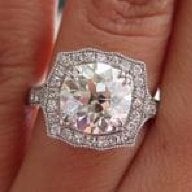 Joined

Jan 2, 2008
Messages

1,706
Hey ladies, I just wanted to post an update on what''s going on in relationship land for me. I''ve been extremely busy over the last 5 or 6 months and so haven''t been on PS as much as I''d like, so that''s why I haven''t posted this sooner!

Some of you may remember that I got engaged about a year ago (wow, was it really that long ago?) after lots of waiting (over 5 years!) and anticipation and all the stuff that goes along with being a LIW. After that point, unfortunately, things started heading south with us (which is entirely the wrong direction considering how a relationship SHOULD be after becoming engaged) and I ultimately made the decision to end it. Things just weren''t working out, I wasn''t happy, and I truly couldn''t see myself marrying him anymore.

It was a really tough thing to do, I know he loves me and cares for me so much and it killed me to have to do it. In the end, though, I know that I made the right choice and would not have been as happy as I know I could/should be.

I''m currently seeing a wonderful guy who has made me feel all kinds of special in ways ex-FI never did, and it amazes me because I don''t think I ever truly realized how unsatisfying my old relationship was. I am so much happier now.

Thanks for reading!