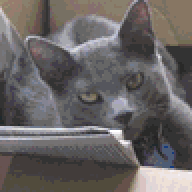 Joined

Jan 10, 2005
Messages

335
After what seemed like a good start:
https://www.pricescope.com/community/threads/he-actually-bought-the-stone.58839/
I was contacted by our vendor on Monday only to be told that the diamond we
thought
we had purchased, was currently in the hands of another vendor. No immediate word on when/if it would be returned to the manufacturer. Needless to say I freaked out just a wee bit because I had spent over a month considering/researching/dreaming about this particular stone and the idea of losing it at the last minute was more than I could bear. Years of waiting for Nate to buy a stone certainly caused me to be emotionally invested in this diamond purchase and this was the last news I wanted to hear.
Later on in the day I was updated on the status; still out on memo, no word until Wednesday afternoon! As Sleeping Beauty pointed out, a 3 day wait shouldn''t have been a big deal after 5.5 years of waiting, and to most sane people it probably isn''t hehe but to a LIW that is exhausted from years of "waiting" stress, this was the last straw. Luckily I had a short lived cry in my office and I got right back on the Pricescope search engine to begin looking for backups.
I found a couple of OK alternatives but none really had that same draw.
Luckily, my diamond vendor emailed me yesterday to let me know that he had my stone sitting on his desk waiting to be shipped. He had compared it to another stone that he had pulled for me and it was a hands down suggestion that I stick with my original find. Even though I wasn''t able to contact him until late in the afternoon here in TX, he somehow managed to get the stone shipped via UPS and
IT WILL BE HERE TODAY
! My boss grudgingly has allowed me to work from home so I can be here to sign for the package (I''m sure you can imagine just how much work I''ve been getting done heh although I''m sure painting my nails can be considered work hehe) so it''s just a waiting game at this point.
Honestly I don''t know how I''ve gotten so lucky. As crazy as it sounds, it''s actually pretty easy to forget about all of those horrible days/weeks/months/years of waiting when things finally begin happening. For you other LIW, I hope your moment of waiting amnesia come soon!
~Heidi