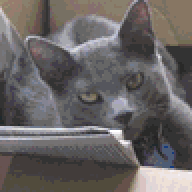 Joined

Jan 10, 2005
Messages

335
After 5.5 years of us dating, and me waiting, it seems Nate is finally officially on board with this whole engagement thing with minimal nagging on my part and I''m *still* in shock.
(And I was TERRIFIED that getting to #1 on the LIW list would lead to nothing but embarassment and heartache...perhaps it was just what it took to get things into motion ehhe)
To back up a bit, we''ve been together 5.5 years, essentially living together the entire time and I''ve been chomping at the bit to get married since our first year together. We moved to Texas together 5 years ago this June and for that entire 5 years I''ve been telling myself (and everyone that asks) that the engagement was just around the corner and that it was only due to Excuse 1, Excuse 2, Excuse 3 etc that it hadn''t happened yet. Valentine''s Day 2003 we looked at our first engagement rings together at the store, at his insistance. Of course that got my hopes up and has lead to a lot of stress and disappointment since then. Being in a constant state of waiting all this time has not been fun but I knew it was a relationship worth sticking with so I stuck.
Around the time of our 5 year anniversary Nate set his own deadline, saying we''d be engaged within 6 months. This was the first time he really volunteered a timeline but it still felt like perhaps his way of pacifying my constant questions about the situation. After so many disappointments, it was much easier not to get too worked up about it, but it did seem like he was in a different place. He even helped me make mockups of the centerpieces I''d like to use at the wedding reception which was a HUGE step for him. I found he didn''t get upset with wedding talk and he even began asking specifics about the 4 cs and the amount of time necessary to create a custom engagement ring. Overall our relationship has felt much more relaxed and open and that has even allowed us to be more loving and forgiving of one another. All those times I had fooled myself in to believing he was ready, seem even more embarassing now because I was truly kidding myself then.
At the beginning of February I found a stone via the pricescope search engine that really struck my fancy. I knew the clarity was lower than anything we''d normally consider, but the GIA report looked pretty good to me so I inquired about it and was told it was super eye clean and a wonderful cut. I , of course, wanted to buy it immediately but Nate was still a bit hesitant so we talked it over for a couple of days. During that period of time, the diamond became unavailable and I later found that the manufacturer felt that GIA had been a bit harsh, so they sent it to EGLNY for recertification. Of course, by the time it returned it was carrying a $2,400 premium (which will still allow us to buy a stone this size for at least half the price of a higher clarity GIA stone) that had me simultaneously disappointed and irked at my bad luck. There was no chance I would expect Nate to spend that much on a diamond but we talked it over a bit while we were on our Valentine''s trip to Vegas. Last weekend we stopped in to a local jewelery store (his idea) to get an idea of our preferences in regards to size and clarity. Although the diamonds we looked at were pretty horrible and should have scared him off even more, he instead became more interested in seeing what a lower clarity ideal cut stone looked like in person and after some emails back and forth to the vendor, HE PURCHASED THE STONE YESTERDAY!
For quite a few hours yesterday I was just numb. It didn''t seem real and I didn''t want to set myself up for further disappointment (there''s always the potential that the clarity will really bother us in person even though we''ve been reassured that it''s a beautiful stone). There is still the chance that the diamond has been sold to someone else as the vendor returned it to the manufacturer after we rejected it for the price hike *but* if all goes well, we''ll hopefully have it in hand by Tuesday. The vendor actually just called a couple of hours ago to let us know where things are headed from here and Nate actually seemed pretty happy and excited to talk to him. I think the fact that the vendor was willing to call the stone in and take photos of the stone and run it through the brillianscope free of charge, helped to set Nate''s mind at ease a bit. There won''t be a lot of surprises by the time we see it for ourselves.
There are times I Just look at him and wonder if this is the same procrastinator I''ve been dating all these years. I''ve just gotten so used to WAITING, that I don''t know how to feel now that things are actually MOVING.
For those of you out there wondering if it will EVER happen, I guess I may turn out to be an example that it *can* happen, even after years and years and years and years and years of waiting
~Heidi