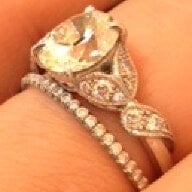 Joined

Feb 17, 2007
Messages

14,167
So for everyone who helped me last week...THANK YOU! (See: https://www.pricescope.com/community/threads/does-this-cushion-have-a-bowtie-or-just-bad-lighting.58922/ for more info).
Mark said that he actually thinks it IS the correct plot, and despite the fact that it is hard to see in the picture, it is an 8 pav and they all do meet at the cutlet.
I talked to Mark and the cushion certainly does NOT have a bowtie, as everyone here suggested (thanks!). My dear BF is about to put a deposit on the diamond, and Mark being the fantastic person he is, is going to take time out of his weekend to meet me near my parents house in a few weeks (he happens to have a weekend house right near there and I will be there anyway)so I can see it in person before we purchase it for real.
So...besides the fact that I want to recommend Mark''s top notch customer service AGAIN (you would think we were spending 50,000 instead of 5,000 with the way he has treated us so far), I wanted to make sure no one thought there were any red flags here.
Here are all the details:
Cushion Brilliant
Measurements: 5.94 x 5.16 x 3.50 mm
Carat Weight: 0.81
Color Grade: G
Clarity Grade: VS2
Proportions:
Depth: 67.8 %
Table: 54 %
Girdle: Slightly Thick to Thick, Faceted
Culet: Medium
Polish: Excellent
Symmetry: Excellent
Fluorescence: None
I would appreciate it if anyone sees anything here that is a red flag...otherwise this baby is MINE!