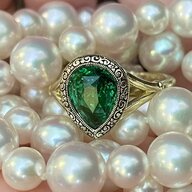 Joined

Mar 2, 2009
Messages

12,627
As a little girl growing up, I was kind of chubby, and my dad used to tell me how much I used to look like the beautiful girls of the Chinese renaissance era. So I grew up identifying with that image as romantic and beautiful so when it came time to wedding dress shop, I immediately thought of wearing a dress that was reminiscent of that time era. (Also, one of my first gifts to my fiance was a painting of one of those women, it's in the photo montage below).
I designed the dress, and had it made while I was in China. For the most part, I love it. My concerns:
1. I'll look really odd since everyone else will be dressed in the traditional western style
2. The top is actually a little loose, and if I raise my arms, it slides down a bit..and then a bit more..and then you see my boob, lol. I'm hoping heavy duty fashion tape will fix this, but I'm open to other ideas!
3. I've never ever worn a 100% silk dress before and am deathly afraid that I'll rip it to shreds. The silk is a extremely fine, I'm a little worried it'll get caught on things and develop a run (like in stockings). I was wondering if any of you gals had any trouble with the dresses? I'm debating changing into a reception dress because I'm afraid the wedding dress might be too delicate/high maintenance for all the dancing and reception madness.
4. I have no idea what to do for hair. The hair during that era was REALLY over the top, and definitely not something I could come close to replicating.
Anyways, picture time!