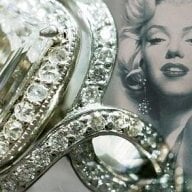 Joined

Jul 2, 2007
Messages

420
I have always been one to say when I get an e-ring "I will never upgrade and have it for the rest of my life!" Because I''m a very sentimental person. However I''m torn between waiting and getting what I want so I''m not tempted with the "upgrade" down the road or getting something that is wonderful now but not "ideal" and risking the want to trade-up later.

Anyone with under 1 carat as their e-ring main stone (either previous owners who have upgraded or current owners) have this feeling? What did you do?
I would love to hear your stories.

Reasoning behind question: A couple of weeks ago bf and I were talking about things I''d like for an e-ring and he had asked something about what size center diamond. I didn''t want to say something and it sound ridiculous or greedy before knowing what his ideas were, so I said I didn''t know and would leave part of that up to him (I''ve pretty much picked everything I want for a setting with only a little help from him because he says that since I''m the one wearing it he''ll get what I want). He had said he was thinking .5 to .75ct. Don''t get me wrong that would be just fine with me, however, before this when he had mentioned upgrading eventually without me saying anything about it I stated that I plan to keep whatever I get forever. I kind of want something a smidge bigger (nothing over 1ct, maybe around .85ct or so) just so that it''s big enough that I''m not risking wanting something bigger down the road, but not sure if/how to bring this up? I worry that this makes me greedy or that I would appear greedy to him.
(Another side note: I have tried on rings before to get ideas and found one I fell in love with... showed it to him after almost deciding what I wanted and when looking up the specs found out the center was about 2ct oval with two .5 crescents on either side when I showed it to him and said "It actually looked perfect on my tiny finger even though it''s huge!" He responded with "Well is that the one you want?" To which I replied... "NO! That would cost WAY too much!")

Sorry for the long post, I really didn''t intend on it being this long.