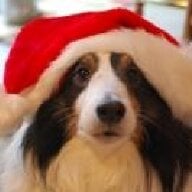 Joined

Nov 25, 2002
Messages

9,170
So after I bought Tina''s pendant, the "hankering" began in earnest. You know...that "I want SOMETHING,
but I don''t want to break the bank!" I''ve had a pair of small stones on my wishlist for a while now......for my second holes.
I got my seconds pierced on a whim when I was 21; my mom wanted to go get her only holes redone properly. She''d had them
pierced in the needle/potato fashion as a kid, and never liked how they looked. They weren''t even, etc. Being the big chicken
that she is

, she asked if I''d come with her....and then she prompted talked me into getting second holes! I don''t often
wear anything in them now; I used to move my studs up to them when I chose to wear drop-style earrings in my primary holes.
However, since I moved to .55 each studs, they really look too big for the second holes. I had considered getting small aquas
(my husband''s birthstone) for them, but at that small size, the color wouldn''t show well anyway. So, OF COURSE


,
that completely justified my getting a little extra bling! heheheee
These are .16 each from
WF
''s RSG selection. Now normally, I place paramount importance on ''upgradability'', but in this
case, I really wouldn''t want larger stones, so these don''t need to be upgradeable. The RSG gave me a way to keep the budget
fairly reasonable and still come away with NEW BLING to stave off the bling-beast for a while!

The bigs guys and the little guys.......
........on top of the SI cleaner

...........
A little more "real life" shot for scale........