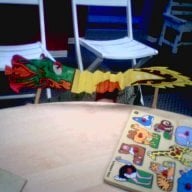 Joined

Feb 26, 2003
Messages

1,555
...girl!
The tech said she was not entirely sure, but I imagine it only takes one time of guessing wrong before you get gun-shy. They also moved the due date up a week to the middle of May. We can''t wait!
My wife had always looked wistfully at those matching mother-daughter outfits. Now she''s looking in earnest.

We have a TON of boys clothes that will get given away.
We also have put the jewelery buying on hold for now. We couldn''t agree on how much we wanted to spend, (the number I''m thinking of is 3x the number she''s considering) and the company I work for has been on the fritz for a while. We are down to a small fraction of our previous size, and the rumors about the doors closing are rampant.

Regardless, the big push is now on to find the perfect girl''s name. As a matter of fact, I''m surprised my wife hasn''t pinned me down on a name yet!