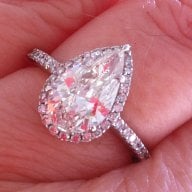 Joined

May 23, 2010
Messages

6,731
packrat|1443619019|3933432 said:

Just a drive by post before the kids come and chaos begin and I'm a gibbering mess in the corner.

Yeah, I accept responsibility to a certain extent. However. I've been thru the no lightbulb thing, crazily enough--"

oh shoot, the last bulb burned out-did you ever get bulbs like you planned?" "no, i"ll do it this afternoon"...that afternoon, are you going to get them or do you want me to do it? No I'll do it. The next morning, do you want me to do it or do you want to get them? I'll do it. The next day, do you want me to do it or are you going to do it? After 2 months of making supper by the light that comes in from the living room and over the sink, my mom finally said Oh good lord, and bought bulbs herself and changed them

. I went 2 weeks not putting the garbage out b/c he said he was going to do it..maggots all over the outside of the can..I did it myself finally. He grew up in a hoarder house, literally, something from tv-so he's not put off by disgusting messes. He'll step over cat barf for days on end, maybe if he's feeling generous he'll put a paper towel over it so I know it's there to clean up. He will clean up after the dog is she has an accident b/c animal urine is something he spent his entire childhood being teased about. So, yanno, I prefer to not have to wear a hazmat suit in my house. I refuse to clean his bathroom downstairs--and he won't. If I took a picture and posted it...that would be horrifyingly embarrassing. He doesn't clean up his hair after he shaves, so it looks like clumps of bugs all over the room. He doesn't pick up the garbage can after it is full...it's piled all over the floor. The inside of the shower is a pink/red b/c of whatever kind of mold/mildew/soap scum is all over. It used to be the only time I could get him to clean his bathroom is when we had our yearly bbq..we've not done that in 4 or 5 years. If that gives you an idea of the last time he cleaned it.

My parents help us w/our business, help us w/production. Dad asked me the other day how to light a fire under his a$$. I said I dunno, but don't tell him you'll have sex w/him if he does something b/c he still won't do it.

(which dad knows b/c they took the kids one night so he and I could have alone time b/c I mentioned in jest one day that maybe if we had sex he would start the kitchen remodel that he's been promising me for 5 years now. Dad came the next day and said "I don't see him in there tearing out that wall, did you play hard to get?" No, he just isn't going to get it done regardless. (that was our last time, and I think that was february) Dad said the other day "it's like pulling teeth to get that man to do *anything*." (b/c we're behind on production, and it happens to be the things he's the only one that can do, go figure) Um, der, tell me about it.

Gah bus is here.
This is classic passive aggressive behavior. He doesn't like to be nagged (out of control) so he (gets control back by) does it on his own timeline. The more you nag, the worse it gets.
Counselor for him. Now. He needs to understand you two are partners in life and you are not his mommy. He either mans up (does what needs to be done) or he is treated like a child (nagged).
Counselor for him or decide if this is a deal breaker for you.
My son was like this, and it drove me insane while raising him. It was freakin' unbearable.