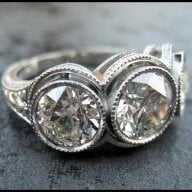 Joined

Jan 26, 2008
Messages

857
Hopefully some of you will comment.

My friend is a late 40s divorced lawyer. She's attractive for her age, quite attractive. No kids.

She signed up for one of those online dating sites and picked out a guy herself. He's one year older, never married.

He answered her inquiry and within one day, they're trading emails back and forth talking about sex. She showed me all of them. They're not explicit or anything but that kind of talk with someone you have not even met creeps me out. She does not dissuade it, but rather gives it right back and seems to be challenged to be the "one" this obvious commitmentphobic has never been able to "find." He is also atractive by the way.

I want to encourage her because she seems to want this one but I really don't know what to say. To me, that kind of intimate communication up front while you have just barely been introduced does not strike me as the foundation for anything enduring. I"ve been married for 23 years though so I may be out of touch. Is this the way things are done these days? Do people go from this kind of thing to anything real? I want to tell her to back off and let whatever it is develop naturally but haven't yet.