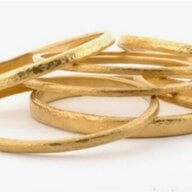 Joined

Jan 26, 2003
Messages

22,129
I don't know if this has been discussed here before. I do not spend a lot of my Pricescope time on Rocky Talky and could very well have missed the discussion even if I did!
I want to know if it is possible, practically, to trade diamonds one owns for another diamond if one did not buy the first diamonds from a jeweler with a trade-up policy. I know that at least one Pricescope vendor says that he accepts trades. I want to know if a vendor will ever accept multiple diamonds in lieu of cash or if he is really, always, looking for cash.
I know that a vendor is in business to make money, not to trade diamonds. On the other hand, if diamonds come easy to him (although cash does not)...would it be painful for him to let go of, for instance, a 3 or 4 carat diamond in return for multiple diamonds from a consumer?
It is probable that the vendor would not have the 3 or 4 carat diamond in stock, especially if the consumer were a Pricescoper who wanted a special cut and good quality. So obtaining the diamond would not be easy as pie. He would want to demand some quantity of goods in return, I am sure. At what point would it become worth his while?
My question is hypothetical, but I could actually be in that situation. When I bought diamonds no one offered me a trade-up policy. I have a surfeit of them. I have been thinking that I might like one larger one...but I do not want to keep adding diamonds to my collection and I do not want to spend cash if I can trade diamonds for diamonds.
PS-My daughter is sharing this computer with me because only this one has a working printer and she needs it for a school project, so I keep getting interrupted! I wanted to ask for links to any old threads in which this topic was discussed if anyone knows of any threads in which it
was
previously discussed!
AGBF