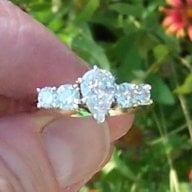 Joined

Jan 2, 2006
Messages

2,194
before christmas i traded in my zales signature 1/3 carat breathtaking ideal cut pendant for my new ring.
i love the new ring and very pleased to wear it, but wished, wished, wished i hadn't traded in the pendant. i didn't realize that it was such a staple of my wardrobe. (edited to add: it was my jeans and t-shirt pendant)
shoot (staring down at toes and kicking feet). anyone else have regrets?
now i have my eye on a
whiteflash
d vs2 blue fluorescent 1/3 carat for $960. (like zhuzhu) it will be a while before i can slide this under the hubby radar.