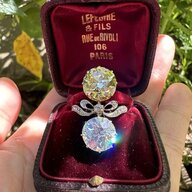 Joined

Feb 12, 2018
Messages

3,413
Better late than never on this review. I worked with Trabert Goldsmiths of San Francisco in 2009 to make this piss-poor split shank setting: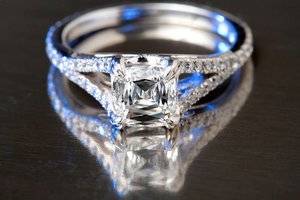 Eric's team wasted my time asking me to come into their store to approve the work in progress, but when I did show up they didn't have the wax model ready as promised. They took six months in total to finish the job despite quoting me half the time, and the piece of crap their Thai vendor made me warped under regular wear & tear.
This is my original Yelp review:
I have 2 regrets when it comes to my engagement ring. The first is that I chose Eric Trabert to create the setting, and the second is that I didn't speak up for myself and allowed him to drag his heels for 6 months, 4/15-10/15/09, before he could complete the setting. I sat down with him 4/15/09 and he estimated $3,000 for a platinum & diamond setting to my specs in 5 weeks, which I agreed was reasonable. He told me to drop by in the beginning of May to see a sketch, and when I went there he had no sketches for me, and no quote. He wasted my time and the cab fare it cost to get there. His quote in mid-May was for $5,000, so I asked for a second quote that wasn't $2,000 over budget. He came back with another quote from a different vendor for $3,700 in June. He put down in writing that it would take 4-6 weeks, and I agreed to put a 50% deposit. I gave my credit card info over the phone and he charged over the authorized 50%. At the end of 6 weeks, he had nothing but a mold. Not only that, but the mold looked exactly the same as the original setting that I wanted to replace. He took another month to make a second mold and another month to give me the finished product.
When I confronted him at the end, he absolved himself of responsibility and rambled on about how he worked so hard all those months to get my setting just right. You'd think he did nothing in 6 months but work on my ring the way he tells it. Obviously he has no clear idea or plan for what he's doing if he sets and misses every single deadline, but it's my fault because I'm "particular." He takes no responsibility whatsoever for misleading me with an initial estimate of $3k and then quoting $5k. Bait & switch much? He sees nothing wrong with telling me he would charge a 50% deposit and helping himself to more than that when I gave him my CC info. Was that even legal? He may have written down that the ring will be complete in 4-6 weeks, but it's my own fault he has nothing but a mold after 6 weeks because I'm "particular." What woman isn't "particular" about her engagement ring? The only thing we agreed upon in the end was that it was my fault for not making it clear that his constant delays were not okay, and I will forever regret not saying anything until the very end and letting his ineptitude drag out a simple job into a 6-month ordeal. Unless you want to micromanage your jeweler and stay on top of his business 24/7 to make sure he gives you what you want on time, find yourself another jeweler who sticks to his word.