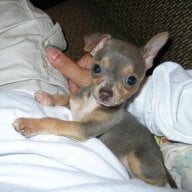 Joined

Dec 16, 2007
Messages

5,184
So...

I met my girlfriend and her son for lunch today at Portillos (a hotdog place around where we live). As we''re sitting there chit-chatting, when a random older lady approached my friends son and begins talking to him about his hat. Now, in all honesty, it was a pretty loud hat...it had a big giant yellow Sponge Bob on it. But, she was totally sweet...and eventually the conversation evolved into her telling us that her granddaughter was about to become a Mom.

She was asking my friend all sorts of questions about what her son was like a baby, so on and so forth. Well, the older womans'' husband arrives with their lunches and although we''re sitting at different tables, we''re still intermingling with each other....until, the husband reaches over and shoves the older woman, hands her a knife and demands she cut his burger in half telling her (and I quote) "why doncha worry ''bout ''dis table first?"

Now, maybe I''m totally "new school" but that type of macho behavior doesn''t cut it with me (no pun intended). The older woman, apparently unfazed, takes the knife and cuts his burger in half...and he proceeds to practically inhale it gribbling grease all over himself and the table.

I was totally taken aback by that. So much so, that I just couldn''t keep it to myself!