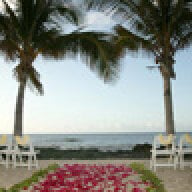 Joined

Nov 30, 2005
Messages

2,216
Well, it''s two weeks to W-Day *EEK*, and we''re starting to be bugged about our gift registry. Um, what gift registry? We''re having a DW with only family so we never even considered the possibility! Neither of us has the slightest idea of what to register for!
To make matters more difficult it seems like alot of the stuff we''d ask for is a bit dependant on where we''ll live, like sheets and towels. We''re moving to an unknown location sometime in the next six months. Current location contenders are the Bay area, Eugene, Portland, Seattle, and Austin.
For instance, we desperately need a new, larger bed but the size will probably be impacted by where we live and what size house we can afford!
Heck, Even registering at REI is dependant on where we''ll live!
We''ve combined two full households so we have too much stuff, most of it we''re looking forward to shedding on our way to our new home. We have plenty of pots and things. We''re covered for good china, glassware, and silverware. Other than a large, quality frying pan, I''m stumped!
I suppose it''s a good thing to be stumped about!