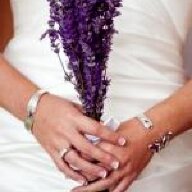 Joined

Apr 3, 2009
Messages

53
Ok, so I fell in love with this ring. I want my engagement ring for the mounting/setting, and care much less about the stone (I would even like Moissanite, but thats not what I want to discuss here).
Ring #1 Its from a local jewelry store called Littman Jewelers.
http://www.fredmeyerjewelers.com/Products/981928.aspx?p=1
Cons - The center stone is 5/8 carat (a bit smaller than I wanted), and they wont change the stones that are already set. Side stones are 5/8 total.
The qualities of the stones are not really very high, K/L color and I1.
When searching Bluenile.com to get a value of the stones, It shows about $600 for center stone, and $250 for side stones each. Total of about $1100, which makes the total price for the ring a little bit over priced. (they "retail" the ring for $4,500)
Pros - Reputable local dealer around for many years,
Will replace diamond at no cost if I get a "checkup" every six months
Optional service package includes Rhodium plating and sizing for 3 years
A CS rep gave me a magnifying glass and showed me the display ring (the one that we would get should the ring be purchased from them), and even with the 10x mag i could barely see the inclusions. She said that they tend to be "conservative" with their grading.
Ring #2 A nearly identical ring From Sun Jewelry http://www.sunjewelry.com/er3420.html
Pros - Can be customized to put a larger .7/.8 carat center stone.
MUCH less expensive
Cons - No guarantee
No seeing in person before purchasing
Cost to return if not what I wanted
No "insurance" policy for the stone falling out in several months.
My research shows they use a different rating system that can be more "lenient"
---
So I guess my major questions are - What do you think about the Littman Jewelers Ring Price? Is it drastically overpriced for what I''m getting? When you buy a ring from an online company, who do you have to give it "checkups" Is there a cost for this?
Anyways I''d love to hear any thing your willing to share with suggestions or comments regarding this. Thanks in Advance!