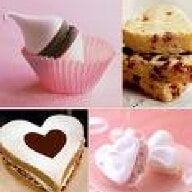 Joined

Feb 9, 2007
Messages

1,464
so i got tons of stuff done for the wedding HOLY COW....
well first the flower girl dresses for the older girls came in and i must say they are so flipping cute (ill have pics up tonight promise) and im still waiting for the younger girls dresses to come in since they were back ordered
then we had our second tasting with my parents M''s mom and one of M''s best friends and i gotta say the food is amazing!!! and my mom some how was able to lower prices for us which was awesome...
a huge surprise was in store for us at the reception venue as well...THEY remodeled the entire room that we''re having!!! it looks sooo much better than when we first saw it, i was so super happy!!!
next i ordered our guest book from guestbookstore.com super exited about getting that in the mail (pictures for sure will be up when that gets here)
then i got my veil and headband (which is my something borrowed from my future sister in law) ill get pictures of that up later tonight too
lets see i ordered a second pair of shoes since i wasnt soo in love with my first pair, and those should be in today...i hope they are what ive been looking for...
out of state invites were sent out last week...thank god
and i brought my dress in for alterations, and i bought fabric for my bridesmaids dresses
thats a heck of a lot done in the middle of managing final papers and midterm exams