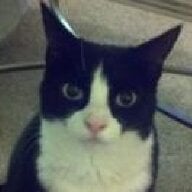 Joined

Aug 8, 2005
Messages

40,225
For laughs only.
So I was in LA visiting one of my aunts and we went to Singlestone. In one of the displays was a foil backed rose cut ring. My aunt says... "Oh, that's just like mine."
I was unaware that there was such a item in the family. And curious it has escaped my mental inventory of her gems (no, not kidding. She has the nicest pieces in the family so I pay attention.)
Later in the trip we go by her safety deposit box and she pulls out the ring. Beautiful beautiful foil backed large Rose cut in a ballerina setting from the early 60's.
It was her engagement ring to her abusive SOB first husband. So it sits in the safety deposit box all the time. She says to me... "Good, now I know who will appreciate it when I am gone." and has me try it on.
Of course I fell in love. And watched, forlorn, as it was locked back up.
So here's the fun part.
How would YOU (I have NO plans of actually doing this. It is hers to do with as she pleases and what she said does not entitle me to anything) ask auntie to borrow the ring for a while to give it some time out of its prison for good behavior? Or even... gift it to you early.
Feel free to be obnoxious as DF as his worst in your phrasing of the request.
Enjoy!