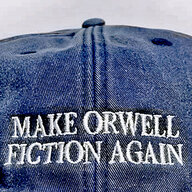 Joined

Apr 30, 2005
Messages

32,301
... I hear I a pop sound about 30 feet in front of me a squirrel immediately falls out of a tree.
I stand there for a few seconds to process what I had just seen.
Now, we don't live out in the country or even in a rural or semi-rural area.
We live in the what I'd call a suburb in middle of a major metropolitan area with millions of residents.
The houses here are densely-packed on 5,000 sq foot lots.
Shooting a gun towards the street has to be illegal, and I'm pretty sure killing critters is too.
The squirrel was still alive, squirming on its back, struggling, dying from a head wound.
Instead of chatting with 'Rambo" I decide to cross the street and keep walking.
Another neighbor Tim, and his friend Hank, happened to be right across the street.
Tim and Hank cross the street to look at the squirrel and Tim tells Rambo. "Hey the squirrel isn't dead. Go get a shovel and put him out of his misery."
Thirty seconds later Tim calls out, "Don't bother. It's dead now."
Rambo has trees in his front yard that grow food that he eats.
He keeps them covered with a net to keep birds out.
I assume the squirrels were getting in and eating "his" food.
(This is confirmed later when Tim told me that Rambo volunteered that 'reason' for shooting the squirrel.)
What a freak coincidence this transpired right in front of me.
When I got home I called the police ... not 911, just their regular switchboard.
They take a report and ask whether I saw the gun.
I said no.
They said they will send a car out and officers will talk to me.
I tell them I don't want Rambo seeing the police car in front of my house, so please send the car over to a nearby location and I'll meet them.
They say fine, and they'll call when the squad car is on its way.
While I'm waiting I take a little walk to do some things, get Rambo's exact address, look for blood evidence on the ground to relay to the police, and talk to Tim and another witness.
I knock on Tim's door to tell him I'm about to meet with the police and ask him whether he wants to also talk to them or just stay out of this.
He said, "Oh no. I support whatever gets this guy to learn he can't just shoot his gun towards the street in the middle of the city."
He could accidentally hit someone and since he's two doors down that someone may be my kid.
I ask Tim if he saw the gun since this seems this is key to how the police handle this.
He says, "No but his friend Hank did. Hank already left left but I have his phone number if the police want to contact him as a witness."
Tim gives me Hank's last name for the police.
I do the same with
another
neighbor who I saw witnessed this.
She said she does not want to talk to the police because her husband is very pro gun and has lots of guns and this would blow up.
(Boy, ain't that another thread in itself?)
I meet the police, tell them everything.
Again they ask if I saw the gun.
I said, "No, but so what? How often do you hear a pop and immediately see a squirrel fall (onto soft mulch not on the sidewalk) from a tree right in front of you with a head wound?"
They said if I didn't see the gun then they are going to just turn this over to our city's animal control department.
I'm incredulous, and a bit pissed a this point, so I ask them, "Aren't you going to at least talk to this guy?" but again I don't want to argue with two guys with guns so I return home.
I sit there and stew.

Soon Animal Control calls me, and a police sergeant who works there interviews me.
Hmm, maybe this will get results after all.
I tell her everything including what I believe is evidence ... the exact location of a 6-inch blood stain on the ground.
Also the blood stain location proves Rambo shot the squirrel from a tree planted on city property, not his private property.
Also I tell them to look in his trash and I'll bet you'll find a cardboard box containing a dead squirrel with a round in it's head.
I give the contact info for those other two witnesses, one of which saw the weapon.
The sergeant assures me this is a very big deal and they are getting right out there to investigate.
A couple hours later Tim calls and says Animal Control called him and they are on their way out to (likely) arrest our village idiot.
Soon after I hear a siren.
I am not making this up because of current threads about gun control, nor am I embellishing anything.
Just the facts, Ma'am.
What a day.